WaterFREE ARENACLEAR™
Never Water Again
Won't FREEZE, so you can put it down in the winter months.
Works on all types of footings and won't wash away.
Use on indoor & outdoor arenas, round pens, roads, paddocks or any area that has a dust problem
Lasts 12-18 months (indoors and at least 12 months outdoors)
Easy to apply -any type of liquid applicator will work. NO WATER NEEDED.
Environmentally safe, Non-Toxic, Non-Hazardous & Non-petroleum
We have a patented technology (GTL – Gas to Liquid) 100% synthetic.
Non-Slippery, Non-Dissipating, No curing, giving you immediate results.
Ride on it the day of application.
The more it is used the better footing and better the dust control.
Used by the Department of Defense for dust control, on roads, airfields, etc.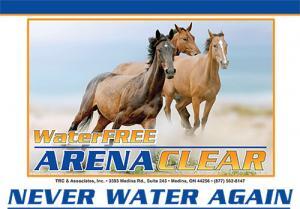 Directions:
To apply WaterFREE ARENACLEAR™, all you need is any type of equipment that is capable of spraying water. WaterFREE ARENACLEAR™ will not damage this equipment or leave any mess.
Spray the product onto your arena surface at a rate of (I would recommend 30 SF/ gal.) 30 sq. ft per gallon. (example – 10,000 sq. ft. will require 330/gals of WaterFREE ARENACLEAR™
Apply and ride. There is no cure time for WaterFREE ARENACLEAR™ and DOES NOT NEED WATER to remain effective.
Initial application wil last at least 12 months, repeat applications can be applied at a rate of 100 sq. ft per gallon.
Each application of WaterFREE ARENACLEAR™ is cumulative and works deeper into the riding surface, thus giving you longer dust control and saving you time and money.
Ingredients: WaterFREE ARENACLEAR™ is a patented product, however, it is a non-petroleum, non-toxic product that is produced from NATURAL gas We use GTL (gas to liquid) technology. 100% synthetic